– Collector's Edition –
Big City Adventure: Vancouver Collector's Edition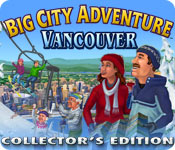 It's time to head north on your next Big City Adventure! Search for thousands of cleverly hidden items around stunningly beautiful Vancouver, Canada. Discover fascinating and obscure facts about Vancouver and its history. Experience awesome Hidden Object scenes in Vancity! Travel across the city and earn cool mementos from the amazing scenes you'll visit while you have tons of Hidden Object and minigames fun!
Multiple minigames
Nice scenes
Head up north for adventure!
Bonus mini-European adventure!
Includes concept art, wallpapers, screensavers and music
Integrated Strategy Guide
New achievement system
Dark Parables: Curse of Briar Rose Collector's Edition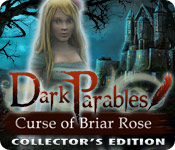 1000 years ago, Sleeping Beauty was kissed by a prince, which removed a terrible curse from the kingdom. The rampant briars were held at bay, but the poor princess was left in her slumber. Follow a modern day detective as he travels to Edinburgh, Scotland, and attempts to end the curse once and for all in Dark Parables: Curse of Briar Rose. Dive into this eerie Hidden Object Adventure game and save Sleeping Beauty today!
Stunning artwork
Save Sleeping Beauty!
Exclusive advanced levels for extra gameplay
Interactive Strategy Guide
Animated screensaver and wallpapers
3 Briar Rose Novels
Dark Tales: Edgar Allan Poe's Murders in the Rue Morgue Collector's Edition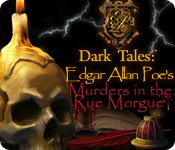 A dreadful murder and kidnapping has occurred in the Rue Morgue and only you can solve the dark crime! Follow the clues to find the killer and the missing family. Become the apprentice of the famed C. Auguste Dupin and solve the devious puzzles to find the hidden clues that will lead you to the monstrous murderer. Based on Edgar Allan Poe's most acclaimed murder mystery, Dark Tales: Edgar Allan Poe's Murder in the Rue Morgue is a fantastic Hidden Object game full of suspense and excitement.
Mysterious atmosphere
Fantastic scenes
Exclusive adventure scenes and inventory items
Bonus hidden object puzzles & minigames
Includes the strategy guide, concept art & wallpapers
A sneak preview of the next game in the story
Dream Chronicles: Book of Air Collector's Edition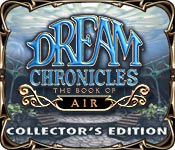 Help Lyra, Faye's daughter, find the unique Clockmaker and escape from a strange dimension in Dream Chronicles: The Book of Air! The day before her 18th birthday, Lyra finds herself trapped in a strange dimension. Following clues sent by her grandfather she flies across the realm in search of a mysterious person who will help her restore time and return home. Solve intriguing puzzles and find Hidden Objects to reunite Lyra with her family!
Awesome cutscenes
Beautiful gameplay
Bonus locations and gameplay
Magnificent soundtrack
Animated screensaver
Built-in Strategy Guide
A sneak peek of the next game
Echoes of the Past: The Castle of Shadows Collector's Edition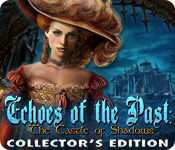 After discovering an ancient painting, the Royal House Museum invites you to explore the recovered artifacts, and the mysteries within. Restore the royal amulet to break an ancient curse and stop an evil witch from regaining her terrible powers! Dive into Echoes of the Past – The Castle of Shadows and save the royal family from their curse and explore a fascinating world full of Hidden Object scenes, and perplexing puzzles.
Integrated Strategy Guide
A new bonus adventure
Concept art
Amazing wallpapers
Flux Family Secrets: The Rabbit Hole Collector's Edition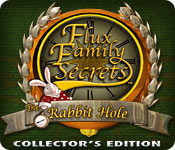 Jesse is back at Flux mansion after thwarting the efforts of her nemesis, Veronica, but this time 30 years in the past! With the help of an unsuspecting ally, she learns that to get back to her present she'll need to go further in the past to correct what went wrong. Along the way she'll reveal more about her family and the machines that enable them to travel through time in Flux Family Secrets – The Rabbit Hole, a fun Hidden Object game.
New characters to meet
Fantastic puzzles
Our First High Definition Game!
Additional Hidden Object scenes and Bonus Missions
Spectacular downloadable soundtrack
Built-in Strategy Guide
Wallpapers and Screensavers
Haunted Manor: Lord of Mirrors Collector's Edition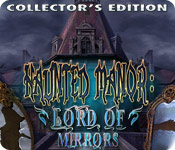 Help Stan Riddle escape the Haunted Manor! After being trapped by the Lord of Mirrors, Stan needs you to guide him to safety! Use your Hidden Object skills to find valuable items and piece together perplexing puzzles. Discover why a beautiful mansion has been abandoned and what caused the owner to disappear. Come up with a clever escape plan to reach your friends in Haunted Manor – Lord of Mirrors!
Tricky puzzles
Escape the Haunted Manor!
Exclusive bonus adventure
Interactive Strategy Guide
Spooky ghost galleries
Unique wallpapers
Love Chronicles: The Spell Collector's Edition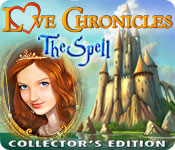 A young prince has been having the same dream and is summoned far from his home. Help him remove an evil curse that has caused a whole kingdom to be trapped in their dreams! Save a beautiful princess before it's too late in this fun and exciting Hidden Object Adventure game. Dive into the world of Love Chronicles – The Spell, and defeat the evil witch that has cursed the entire population once and for all!
Gorgeous graphics
Perplexing puzzles
A full bonus quest
Magnificent wallpapers
Built-in Strategy Guide
Concept and final art
Mystery Case Files®: Dire Grove™ Collector's Edition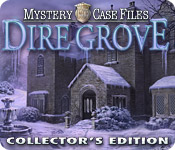 The Celtic legend of Dire Grove has been passed down from generation to generation for centuries. Considered a fairytale, its telling was meant to frighten small children into staying in their beds through the night. A recently unearthed artifact in the United Kingdom, however, proves the dark legend to be true! Use your wits and Hidden Object talents to follow the trail of a group of missing graduate students in Mystery Case Files: Dire Grove!
Bonus gameplay that reveals MCF "secrets"
A Deluxe Strategy Guide, integrated into the game
Collect over 50 hidden objects that continually change shape
Penny Dreadfuls: Sweeney Todd Collector`s Edition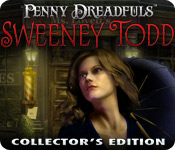 Travel back to the 19th century and encounter a literary legend! Sweeney Todd has come back to England seeking revenge. After being falsely accused and convicted of a crime, Todd was sent to Australia for life. Now he's back and ready to get payback. Use your Hidden Object skills to track down and stop the notorious killer and bring his operation to an end! Find crucial clues and solve puzzles to piece together the mystery in Penny Dreadfuls™ Sweeney Todd.
Exciting story
Stop Sweeney Todd!
Exclusive hidden object scenes
Original puzzles to challenge and confound you
An interactive strategy guide
A new "theatre mode" to replay cut scenes and movies
Spectacular full orchestral soundtrack
PuppetShow: Souls of the Innocent Collector's Edition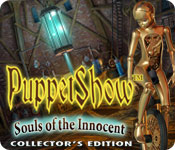 Return to the terrifying PuppetShow in this spooky sequel! A young girl has been asleep for over two days, and the local doctors are at a loss. The townspeople believe her condition to be a curse emanating from a dark magician's castle in the mountains, so it's up to you to track down the cause of the curse and save the Souls of the Innocent! Dive into in this dark and mysterious Hidden Object game.
Dark and mysterious atmosphere
Awesome artwork
Hours of bonus gameplay!
Magnificent wallpapers
Animated screensaver
Built-in Strategy Guide
Behind the scenes Making-of
Strange Cases: The Lighthouse Mystery Collector's Edition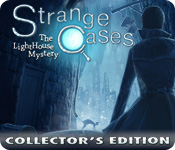 FBI Agent Claire Ellery's latest strange case has become personal. Tom, her former partner, has died under bizarre circumstances. As Agent Ellery delves deeper into the mystery of his death, she finds that Tom himself has laid a trail of clues for her—a trail that leads her into a sinister web of corporate betrayal and the arcane. Follow the cards to solve this Strange Case and vindicate your partner's untimely demise in Strange Cases: The Lighthouse Mystery.
Dark atmosphere
Exciting adventure
A Bonus Strange Case: "The Case of the Missing Scientist"
Helpful Strategy Guide
Wonderful wallpapers
Downloadable soundtrack
Sneak peek into the next game!
Treasure Seekers: Follow the Ghosts Collector's Edition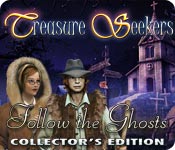 Jump into an exciting adventure as you help Nelly and Tom free some unlucky ghosts who are being trapped by an evil alchemist! Use your Hidden Object skills to explore a mysterious world, and discover valuable clues. Track down the necessary items to free the dead ancestor of Cardinal House, a shaman, and many other characters in Treasure Seekers: Follow the Ghosts! Stop the evil alchemist and save the day!
Gorgeous graphics
Free the trapped ghosts!
Exclusive bonus gameplay, with a new character to play as!
Embedded Strategy Guide
Amazing Desktop Wallpapers
Behind the scenes "making of" art